Glass Specification
Any glass supplied by Fast Glass Processing Ltd, where a project specific specification has not been carried out by us, the responsibility lies solely with the customer.
If the specification is changed by Fast Glass Processing Ltd, this is due to manufacturing capabilities and is not a substitute for a structural report. Any changes must be checked and approved by the customer.
Lead Times
During manufacturing, failures and/or breakages can sometimes occur. Lead times are given in good faith but the postponement of delivery dates indicated by us cannot be ruled out and should be taken into consideration when placing orders.
Deliveries
Deliveries are kerbside only with one delivery person. The customer will be responsible for arranging adequate bodies to accept delivery.
All goods/deliveries are handball off only unless otherwise pre-arranged.
All goods remain the property of Fast Glass Processing Ltd until paid in full.
All glass must be inspected upon delivery and signed to confirm received in good condition. Any faults must be reported within 24 hours of collection/delivery and must be returned in the condition supplied.
Fast Glass Processing Ltd are a supply only of goods company, therefore cannot be held liable for costs incurred if goods have been installed or damaged after collection/delivery.
If orders are delayed due to production, Fast Glass Processing Ltd will not be held liable for additional costs incurred
Upvc products
The information provided in this section should be treated as guidance only. Fast Glass Processing Ltd cannot control how the information is interpreted and therefore, cannot be held responsible for any failure. Regulations regarding Health & Safety of operatives, along with relevant Building Regulations should be strictly adhered to, as such, Fast Glass Processing Ltd cannot be held responsible for any failure to comply with them. This statement does not affect the Fabricators statutory rights.
To enable a successful installation incorporating our Upvc products, the initial survey of the structure is vitally important.
Prior to installation, the installation team should ensure that all the relevant documentation, e.g. drawings, survey sheets, special instructions etc is available and understood and that all relevant products and equipment are available. Prior to the commencement of work the sizes, type and condition of all windows and door sets should be checked both against the survey sizes and types and against the actual aperture sizes. Fast Glass Processing Ltd therefore cannot be liable for any costs incurred if the installation has commenced prior to the above guidance not being carried out by the installer as we are a supply only organisation.
For all guarantees please refer to our Upvc guarantee documentation
Insulating Glass Units
Low E glass will be supplied as Planibel A. Please note, as with all low E products there may be a slight haze in certain lighting conditions. This cannot be avoided as it is the nature of the product.
The company, unless otherwise stated, provide a 10 year warranty on UPVC frames and a 5 year warranty on wood frames in respect of seal failure only. Any other defect shall be at the company's discretion. The warranty is subject to the correct specification by the customer of the goods for their intended use and application. It is also subject to correct installation and subsequent maintenance. Particular attention should be paid to glazing procedures and the protection and treatment of timber/joinery. Normal trade installation and maintenance procedures apply. Replacement of any defective item shall be at the Company's discretion, on the basis of a supply only replacement i.e. not
fitted/installed.
Invoicing details must be advised to the Company before any claim under the warranty will be considered.
Squareness
Squareness is measured by a comparison of diagonals:
Up to 2000mm Tolerance = +/- 4mm
Over 2000mm Tolerance = +/- 5mm
Drawings/CAD
For any shaped glass, Fast Glass Processing Ltd will require fully dimensioned drawings, ideally in CAD or DXF format.
Any templates supplied to Fast Glass Processing Ltd should be exact finished sizes detailing any holes or cut outs in the correct position. All writing on the templates will be ignored unless written on the Purchase Order
All templates sent to Fast Glass Processing Ltd should be clearly labelled with customer name, contact and the reference number where applicable.
Where possible Fast Glass Processing Ltd will return the templates with the finished product.
Toughened Glass
All standard arrissed edge, toughened glass will be manufactured with a translucent circle stamp and all toughened polished edge work with being manufactured with a translucent Line stamp, unless otherwise requested.
Cut Outs
If the glass has an internal cut out or internal corners then a minimum radius will be applied to said corner/s. The finish will be either 6mm for a ground finish or 13mm for a polished finish.
Please state which you require at the order stage.
Misalignment
Edge slip of up to 3mm between glass components is acceptable.
Corners
When the glass is processed with a polished edge, the corners will be sharp. This sharpness can be removed by applying a further process of dubbed or radius corners.
A preference should be specified at the order stage. If no request is made the corners will be sharp or dubbed depending on processes.
Please note dubbed corners are a hand process and will be a dull finish.
Standard (Sharp) Corners: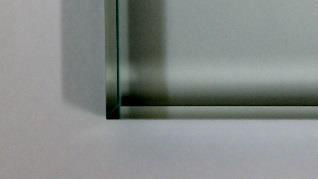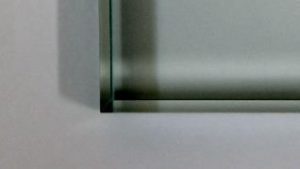 Radius Corners: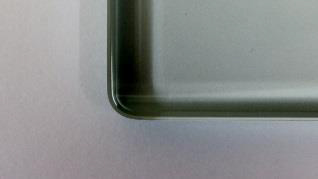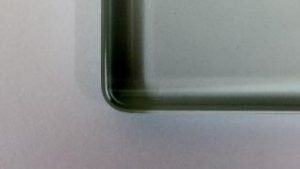 Dubbed Corners: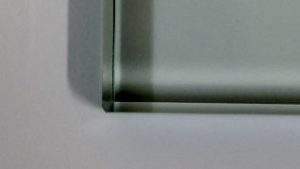 Holes
The position of holes is critical in toughened glass.
A: The distance between holes must be a minimum of 4 x the thickness of the glass
B: Diameter of the holes must be at a minimum equal to the thickness of the glass.
C: Dimension from the corner of the glass to the edge of the hole must be no less than 4 x the thickness of the glass. D: For a hole that is positioned closer than the recommended distances a saw cut is made to minimize the stress and chance of breakage.
E: Dimension from the edge of the glass to the edge of the hole must be no less than 1.5 x the thickness of the glass. Tolerance for the position will be between +/- 1mm & +/- 3mm depending on the glass thickness.
F. Fan holes to be a minimum of 100mm from the edge to the start of the fan hole.
Standard Polish:

CNC Polish:

Nickel Sulphide Inclusions
On rare occasions, Toughened glass can break spontaneously, without any applied load, due to small Nickel Sulphide inclusions that may be present in all float glasses. These breakages can occur months or even years after manufacture.
Carrying out Heat Soak testing to the glass can reduce the risk of spontaneous breakage however this is not 100% guaranteed.
Any spontaneous breakages are not covered by the Fast Glass Processing Ltd warranty.
Edgework
Our toughened double glazed units are produced with ground edges as standard.
Our annealed units are not edge treated.
Visual Quality Standard for installed insulating glass units constructed from flat transparent glass.
As accepted by many Glass manufacturers and the Glass and Glazing Federation as the standard for the inspection of flat glass. Fast Glass Processing Ltd's, products are to be inspected using the same criteria as toughened products.
1. Transparent glass used in the manufacture of insulating glass units is identical to that used traditionally for single glass and will therefore, have a similar level of quality.
2. Both panes of the sealed unit shall be viewed at right angles to the glass from the room side standing at a distance of not less than 2 metres (but for toughened, laminated or coated glasses not less than 3 metres) in natural daylight and not in direct sunlight with no visible moisture on the surface of the glass. The area to be viewed is the normal vision area with the exception of a 50mm wide band around the perimeter of the unit.
3. Flat transparent glass, including laminated or toughened glass, shall be deemed acceptable if the following phenomena are neither obtrusive nor bunched: totally enclosed seeds, bubbles or blisters; hairlines or blobs; fine scratches not more than 25mm long; minute embedded particles.
Obtrusiveness of blemishes shall be judged by looking through the glass, not at it, under lighting conditions as described in 2.
4. When thermally toughened glass is viewed by reflection, the effect of the toughening process may be seen under certain lighting conditions. The visibility of the surface colouration or patterns does not indicate deterioration in the physical performance of the toughened glass. Because of the nature of the toughening process, distortion will be accentuated when the glass is viewed in reflection or incorporated in insulating glass units.
5. Visible double reflection can occur under certain lighting aspect conditions, especially when viewed from an angle. This is an optical phenomenon arising from multiple surface reflections in sealed units.
6. The manufacture of flat laminated glass does not usually affect the visual quality of the glass incorporated in insulating glass units. However, the faults generally accepted in paragraph 3 may be increased in number if several glasses and interlayers are used in the production of laminated glass. When viewed under certain light conditions, insulating glass units incorporating clear or tinted flat laminated glass may show a distortion effect caused by reflection on the multiple surfaces of the components of the laminated glass.
7. Brewster's Fringes occur when the surfaces of the glass are flat and the two panes of glass are parallel to each other, i.e. when the light transmission properties of the installation are of a very high order. This phenomenon is not a
defect of the product, being dependent on the laws of physics and not on the quality of the insulating glass. In fact it arises because modern glass made by the float process is flat, therefore, free of the distortion inherent in sheet glass. The occurrence of Brewster's Fringes is in its nature rather like (though very much more than) the fact that under certain conditions, the observer will see a reflection of himself in any window or door and no-one could claim that this was a defect of glass.
NOTE: Patterned Glass – the above criteria do not apply to patterned glass as, due to the method of manufacture, imperfections such as seeds, bubbles are deemed to be acceptable.
Viewing Area
1. Scratches and sleeks not visible from 2 metre viewing distance acceptable.
2. Bubbles and inclusions not greater than 2.0mm at least 150mm apart acceptable.
3. Occasional white scars near to edge zone acceptable.
Critical Area
1. Fine scratches and sleeks not visible from 2 metres acceptable.
2. Bubbles and inclusions up to 1.5mm at least 150mm apart acceptable.
3. No white scars permitted
Remedial Visits
All service requested will attract a £75.00 upfront charge, repayable in full if the service call is adjudged to be a problem from the supply chain requiring attendance.
Fast Glass Processing Ltd will not carry out any work if you are not in attendance and the call out fee will be forfeited.
Fast Glass Processing Ltd will not reimburse any costs for your representatives time on-site during our inspection and must be accompanied at all times.
To request a service engineer a Service Request Form must be returned including pictures pertaining to the service request.
Fast Glass Processing Ltd will not liaise directly with your end-user, all correspondence will be done directly with the customer who placed the order.
Where an inspection identifies that a problem has been caused due to installation or after delivery handing or user error, a quote will be offered to carry out the work.
Should Fast Glass Ltd identify a Manufacturing error/problem that is rectified at the point of inspection, the inspection fee will be refunded.
Consequential Loss, Fast Glass Processing Ltd is responsible for the supply only of products, therefore responsible for replacing the parts/product which may have failed. We are not responsible for any consequential loss due to part/product failings, e.g. locksmiths, water damage etc.
Our Guarantee does not cover any labour costs incurred by the customer or any third party in installing the replacement and other costs related to the removal and disposal of defective products.
In case of a valid claim under this Guarantee, Fast Glass Processing Ltd will, at its absolute discretion, either repair or replace the defective profile and fittings.
All customers/ end users must adhere to the cleaning recommendations
Terms of website use
Please read these terms of use carefully before you start to use the site. By using our site, you indicate that you accept these terms of use and that you agree to abide by them. If you do not agree to these terms of use, please refrain from using our site.
Reliance On Information Posted & Disclaimer
the materials contained on our site are provided for general information purposes only and do not claim to be or constitute legal or other professional advice and shall not be relied upon as such.
We do not accept any responsibility for any loss which may arise from accessing or reliance on the information on this site and to the fullest extent permitted by English law, we exclude all liability for loss or damages direct or indirect arising from use of this site.
Information about us
https://fastglassprocessing.co.uk/ is a site operated by FAST GLASS PROCESSING LTD ("We"); we are a COMPANY registered in England and Wales under registration number 08825544. Our registered office is Unit 5, Webber Court, Billington Road, Burnley, BB11 5UB.
Accessing our site
Access to our site is permitted on a temporary basis, and we reserve the right to withdraw or amend the service we provide on our site without notice (see below). We will not be liable if for any reason our site is unavailable at any time or for any period.
Intellectual property rights
We are the owner or the licensee of all intellectual property rights in our site, and in the material published on it.  Those works are protected by copyright laws and treaties around the world.  All such rights are reserved.
You may print off one copy, and may download extracts, of any page(s) from our site for your personal reference and you may draw the attention of others within your organisation to material posted on our site.
You must not modify the paper or digital copies of any materials you have printed off or downloaded in any way, and you must not use any illustrations, photographs, video or audio sequences or any graphics separately from any accompanying text.
Our status (and that of any identified contributors) as the authors of material on our site must always be acknowledged.
You must not use any part of the materials on our site for commercial purposes without obtaining a licence to do so from us or our licensors.
If you print off, copy or download any part of our site in breach of these terms of use, your right to use our site will cease immediately and you must, at our option, return or destroy any copies of the materials you have made.
Our site changes regularly
We aim to update our site regularly, and may change the content at any time. If the need arises, we may suspend access to our site, or close it indefinitely. Any of the material on our site may be out of date at any given time, and we are under no obligation to update such material.
Our liability
The material displayed on our site is provided without any guarantees, conditions or warranties as to its accuracy. To the extent permitted by law, we, and third parties connected to us hereby expressly exclude:
All conditions, warranties and other terms which might otherwise be implied by statute, common law or the law of equity.
Any liability for any direct, indirect or consequential loss or damage incurred by any user in connection with our site or in connection with the use, inability to use, or results of the use of our site, any websites linked to it and any materials posted on it, including, without limitation any liability for:
loss of income or revenue;
loss of business;
loss of profits or contracts;
loss of anticipated savings;
loss of data;
loss of goodwill;
wasted management or office time; and
for any other loss or damage of any kind, however arising and whether caused by tort (including negligence), breach of contract or otherwise, even if foreseeable, provided that this condition shall not prevent claims for loss of or damage to your tangible property or any other claims for direct financial loss that are not excluded by any of the categories set out above.
This does not affect our liability for death or personal injury arising from our negligence, nor our liability for fraudulent misrepresentation or misrepresentation as to a fundamental matter, nor any other liability which cannot be excluded or limited under applicable law.
Information about you and your visits to our site
We process information about you in accordance with our Privacy & Cookie policy.  By using our site, you consent to such processing and you warrant that all data provided by you is accurate.
Viruses, hacking and other offences
You must not misuse our site by knowingly introducing viruses, trojans, worms, logic bombs or other material which is malicious or technologically harmful. You must not attempt to gain unauthorised access to our site, the server on which our site is stored or any server, computer or database connected to our site. You must not attack our site via a denial-of-service attack or a distributed denial-of service attack.
By breaching this provision, you would commit a criminal offence under the Computer Misuse Act 1990. We will report any such breach to the relevant law enforcement authorities and we will co-operate with those authorities by disclosing your identity to them. In the event of such a breach, your right to use our site will cease immediately.
We will not be liable for any loss or damage caused by a distributed denial-of-service attack, viruses or other technologically harmful material that may infect your computer equipment, computer programs, data or other proprietary material due to your use of our site or to your downloading of any material posted on it, or on any website linked to it.
Links from our site
Where our site contains links to other sites and resources provided by third parties, these links are provided for your information only.  We have no control over the contents of those sites or resources, and accept no responsibility for them or for any loss or damage that may arise from your use of them.  When accessing a site via our website we advise you check their terms of use and privacy policies to ensure compliance and determine how they may use your information.
Jurisdiction and applicable law
The English courts will have non-exclusive jurisdiction over any claim arising from, or related to, a visit to our site.
These terms of use and any dispute or claim arising out of or in connection with them or their subject matter or formation (including non-contractual disputes or claims) shall be governed by and construed in accordance with the law of England and Wales.
Variations
We may revise these terms of use at any time by amending this page. You are expected to check this page from time to time to take notice of any changes we made, as they are binding on you. Some of the provisions contained in these terms of use may also be superseded by provisions or notices published elsewhere on our site.
Your concerns
If you have any concerns about material which appears on our site, please contact.
sales@fastglassprocessing.co.uk
Thank you for visiting our site.